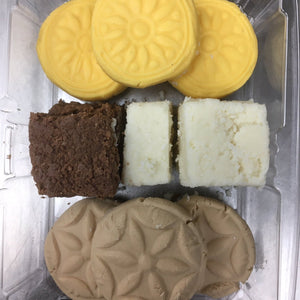 Assorted Bengali Sandesh
Sale price Price $ 11.99 Regular price
Assortment of Chocolate Coffee, Khajuri, Mango and Plain Sandesh made of Milk Curd, Bengali Date Palm Molasses, Belgian Chocolate, Coffee, Mango, and Sugar.
Traditional Bengali Milk sweet made with Farm Fresh, Grass Fed, Hormone Free, Antibiotic Free, Whole Milk cheese.  We use sap/resin of the Bengali Date Palm forests and the finest Belgian Dark Chocolate. These are healthy low sugar, low fat sweets. 
No artificial ingredients, No preservatives or additives, No fillers or emulsifiers, and No artificial binders... Only Pure ingredients. 10 oz. 10-11 pieces approx.